The Collections
Stolen Works
During World War II, many works of art were plundered by the Nazis from individuals, as a key component of the Holocaust. Some of these works were recovered and handed back to their owners after the fall of the Third Reich. For some of these works, the rightful owners have not yet been identified. These works have been entrusted to museums, in particular the Musée du Louvre Museum, where they must be shown to the public. From a legal perspective, these works are not the museum's or the Government's property, and awaiting return to their rightful owners. The Musée Rolin has four of these works. They are visible in rooms 10 and 11, in the Gothic section. These artworks date from the 15th and 16th centuries.
⬑
The Adoration of the Magi (MNR 353), Master of Frankfurt, early 16th century.
⬑
Marie-Cleophée and her four sons (MNR 379), Marie-Salomé and her sons (MNR 378), two panels of an altarpiece by Bernard van Orley, Marie-Cleophée and her four sons (MNR 379), Marie-Salomé and her sons (MNR 378)
In accordance with French legislation, these works of art are always shown publicly on the museum's walls and cannot be put into storage. Their museum label details their inventory number with the prefix "MNR", which stands "Recuperated by National Museums". Their is also a mention of their legal status in order to clear the way for their identification. These works must not leave French territory and therefore are forbidden from being loaned as part of an exhibition abroad.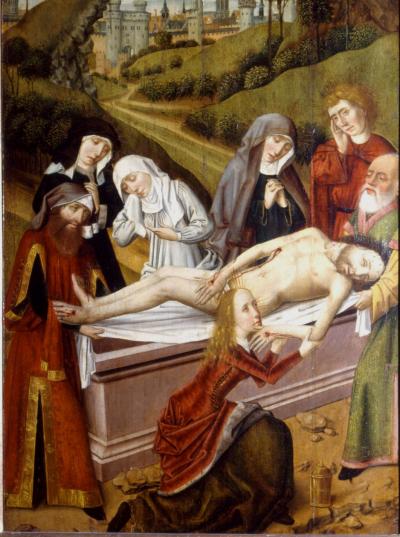 ⬑
Burial of Jesus (MNR 961), anonymous, 15th century
⬑
Triptych of the Adoration of the Magi (MNR 993), from the workshop of the master of the Utrecht Adoration, end 15th or beginning of the16th century