Partners and documentation
The Société éduenne
A learned society created in 1836
The Société Eduenne is a learned society which was created in Autun in 1836. One of its first tasks was to operate the local museum housed in City Hall, with a focus on regional history.Then in 1861, it was under its leadership that the Lapidary Museum was opened. Some of the museum's most beautiful sculptures of Roman and Medieval history were showcased there. The Éduenne Society was recognized as a public-interest organization in 1866. In the last third of the 19th century, it played a decisive role in the knowledge of regional history.
The Société Eduenne was instrumental in saving the Rolin Hotel from destruction and obtaining its classification as a Historical Monument. It opened its own museum there in 1878. It was also during this period that Jacques-Gabriel Bulliot carried out numerous archeological excavations in the towns of Autun and Bibracte. The society also published scientific publications fat an important rate (42 volumes of the Mémoires were published between 1872 and 1914).
Hard hit by the two world wars, the Société Eduenne sold all of its buildings and collections in 1954 to the City of Autun, which since then has managed the museum. However, the Société Eduenneretains full ownership of its archives and its library. This independence has allowed it to continue its scientific activities. Its archives are open to researchers, and its publications and conferences continue to play an important role as a partner to the Musée ROlin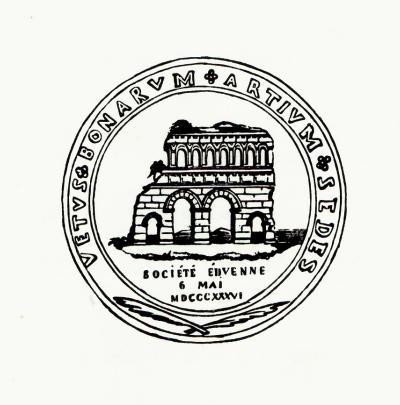 ⬑
The seal of the Société Eduenne
⬑
Conference of the Société Eduenne
As a center for the study of regional history, the Société Eduenne continues to publish its Memoirs at the rate of one per year on average. It is a partner in research projects, in association with the regional University, the Bibracte Museum and the city of Autun. Its remarkable library, rich with 20,000 volumes and 120 medieval manuscripts, is open to the public by appointment. The society continues to acquire books and archives and to receive donations.
The Société Eduenne organizes and promotes every year a cycle of conferences with historical and artistic themes. Scientific trips are also organized throughout the year. The Société Eduenne was also heavily involved in the commemoration of the two thousandth anniversary of the creation of the town of Autun in 1985.
⬑
Old view of the museum and the bust of the president of the Société Eduenne
Relationship with the museum
The association of the friends of the museum
As the Association of Friends of the Musée Rolin and its public-utility statuts,  the Société Eduenne is actively involved in the museum's acquisition policy. The members of the Société Eduenne have free entrance to Musée Rolin.