Partners and documentation
Sponsors and donors
The Musée Rolin is recognized for the exceptional quality of its collections. It conducts ambitious exhibitions of national scope and has embarked on a vast program of renovations over the next few years. If you would like to make a donation or sponsor the museum, do not hesitate to get in touch with the museum.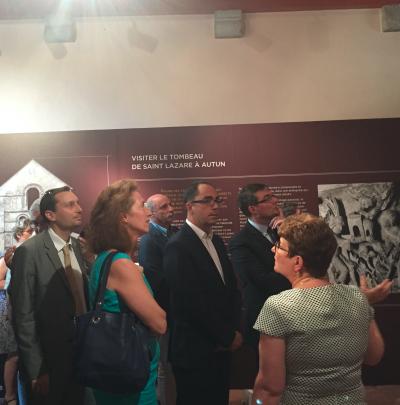 ⬑
Inauguration of the exhibition "Eve ou la folle temptation", 3rd RDV du Louvre in Autun.
⬑
Theatrical event next to the Cathedral of Saint-Lazarus
• Show your commitment to the arts and the democratization of culture
• Maintain a special link with the Musée Rolin
• Participate in major cultural events
• Help renovate the Musée Rolin
Support is encouraged by the state
Whether financial or in kind, sponsorship gives rise to a corporate tax reduction of 60% of the amount of the donation. A company donating €10,000 can benefit from a corporate tax reduction of €6,000. The net charge will be of €4,000, within the limit of 0.5% of the company's turnover when the latter amount is higher than 10.000€. Individuals benefit from an income tax reduction equal to 66% of the value of the donation, up to a limit of 20% of their taxable income.
⬑
View of the reception area of the renovated Musée Rolin, by Atelier Novembre, ⓒ Alexandre Besson
By becoming a partner of the museum, you benefit from exceptional and tailor-made rewards, with a value up to a maximum of 25% of the gross amount of your donation :
• Public relations events for employees, suppliers, and customers of the company
• Free admission to the museum and passes for activities offered by the museum
• Private events and visits 
• Actions towards children (workshops,tours, etc.)
• The use of museum spaces for business meetings
• Receive exhibition catalogs and derivative products